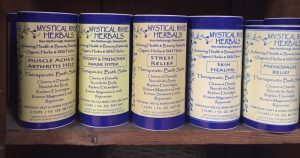 Since Mike just returned from a 33-mile pilgrimage and his feet are sore and blistered, we decided it might be a good idea to talk about addressing the issues of aches, pains and sore feet on this Saturday's radio show.  It's summer!  Many folks are hiking, biking, and otherwise enjoying the great outdoors.  Here are some ways to counteract the negative effects that sometimes occur when we over-exert ourselves.  Listen on Saturday morning as we discuss some natural remedies to make you feel better after over-doing it with exercise!
http://magnificatmedia.com/mysticalroseherbals.
Set the alarm on your computer and remember to join us on Saturdays at 7:30 a.m.; 2:00; 4:30 and 6:00 p.m. Eastern Standard Time (adjust according to your time zone).
We hope you enjoy the show!
–  Jean 
(Disclaimer: The opinions of Magnificat Media are not necessarily those held by Mystical Rose Herbals.)