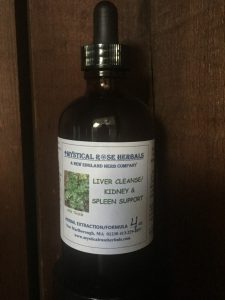 LIVER CLEANSE ~ KIDNEY & SPLEEN SUPPORT
 This combination of herbal extracts contains herbs that have been used to both support and cleanse the liver for centuries.  It is a gentle tonic, with no reported side effects.  No running to the bathroom, or other unpleasant "surprises". 
Contains:  Silybum marianum (Milk Thistle Seed); Articum lappa (Burdock Rt.); Galium ap. (Bedstraw); Rumex crispus (Yellowdk Rt); Taraxacum off. (Dandelion Rt.); Trifolium pra. (Red Clover).  Extracted individually in alcohol/water solutions suited to each particular herb requirement then combined into this formula.