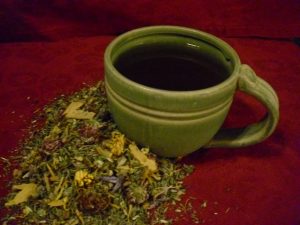 BERKSHIRE MEADOWS HERBAL HEALTH TEA
A delicious herbal tea, bursting with natural-source vitamins, minerals & anti-oxidants. Made with herbs grown on our own little "Quarter Acre Farm" using no pesticides or artificial fertilizers, ever.  Berkshire Meadows Herbal Health Tea contains no caffeine, and a cup after dinner will help digest your meal and bring a restful sleep when you retire.  Tasting it reminds one of a walk through the flowering fields of the Berkshires in high summer.  With hints of mint, chamomile, yarrow and more, one can almost feel the gentle energy of the herbs infuse your body with the vitamins and minerals you need, that are straight from the earth, just as vitamins & minerals are meant to be.  As that feeling of well-being embraces you, enjoy the newest addition to your health experience!
It is good for after an exercise workout!  RESTORE VITAMINS AND MINERALS LOST DURING EXERCISE NATURALLY WITH BERKSHIRE MEADOWS HERBAL HEALTH TEA!
Drink this delicious tea daily to maximize health & to avoid colds and flus.  Read below to learn the vitamins, minerals & antioxidants contained in BERKSHIRE MEADOWS HERBAL HEALTH TEA:
+ Shipping
Berkshire Meadows Herbal Health Tea 1 oz. Loose Tea $5.00

Berkshire Meadows Herbal Health Tea 2 oz. Loose Tea $9.50

Berkshire Meadows Herbal Health Tea 3 oz. Loose Tea $13.00

Berkshire Meadows Herbal Health Tea 4 oz. Loose Tea $17.50

CONTAINS NON-CERTIFIED ORGANICALLY GROWN AND WILD-HARVESTED HERBS:
Alfalfa;  Our Lady's Bedstraw;  Calendula;  Chamomile;  Dandelion Lvs;  Gingko Biloba;  Horsetail;  Meadowsweet;   Mints;  Mallow Flowers;  Nettles;  Oat Straw;  Plantain;  Red Clover;  Red Rsby. Lvs. &  Yarrow
Vitamin A: Alfalfa: (Medigo Sativa), Dandelion (Taraxacum Off.), Chickweed (Stellaria media), Horsetail (Equisitum arvense), Nettles (Uritica dio.), Oat Straw (Avena sat.), Peppermint (Mentha spp), Plantain (Plantago spp.), Red Clover (Trifolium pratense), Red Raspberry Lvs. (Rubus idaeus),
Vitamin B1 (Thiamine): Alfalfa: (Medigo Sativa), Chamomile (Chamomila off.), Chickweed (Stellaria media), Dandelion (Taraxacum Off.), Nettles (Uritica dio.), Oat Straw (Avena sat.), Peppermint (Mentha spp), Red Clover (Trifolium pratense), Red Raspberry Lvs. (Rubus idaeus), Yarrow (Achilla mill.)
Vitamin B2 (Riboflavin): Alfalfa: (Medigo Sativa), Dandelion (Taraxacum Off.), Chamomile (Chamomila off.), Chickweed (Stellaria media), Horsetail (Equisitum arvense), Nettles (Uritica dio.), Oat Straw (Avena sat.), Peppermint (Mentha spp), Red Clover (Trifolium pratense), Red Raspberry Lvs. (Rubus idaeus),
Vitamin B3 (Pyridoxine): Alfalfa: (Medigo Sativa), Dandelion (Taraxacum Off.), Chickweed (Stellaria media),Nettles (Uritica dio.), Oat Straw (Avena sat.), Peppermint (Mentha spp), Red Clover (Trifolium pratense), Red Raspberry Lvs. (Rubus idaeus),
Vitamin b12 (Cyanocobalmin): Alfalfa: (Medigo Sativa)
Vitamin C: Alfalfa: (Medigo Sativa), Dandelion (Taraxacum Off.), Red Raspberry Lvs. (Rubus idaeus),
Vitamin D: Alfalfa: (Medigo Sativa)
Vitamin E: Alfalfa: (Medigo Sativa), Dandelion (Taraxacum Off.),
Vitamin K: Alfalfa: (Medigo Sativa)
Vitamin U: (for peptic ulcers) Alfalfa (Medigo Sativa)
Minerals
Calcium: Alfalfa: (Medigo Sativa), Dandelion (Taraxacum Off.), Red Raspberry Lvs. (Rubus idaeus),
Chlorine: Alfalfa: (Medigo Sativa), Dandelion (Taraxacum Off.),
Flourine: Alfalfa: (Medigo Sativa)
Iron: Alfalfa: (Medigo Sativa), Yarrow (Achilla Mil.), Dandelion (Taraxacum Off.),
Magnesium: Alfalfa: (Medigo Sativa), Dandelion (Taraxacum Off.), Red Raspberry Lvs. (Rubus idaeus),
Phosphorus: Alfalfa: (Medigo Sativa), Dandelion (Taraxacum Off.), Red Raspberry Lvs. (Rubus idaeus),
Potassium: Alfalfa: (Medigo Sativa), Yarrow (Achilla Mil.),
Dandelion (Taraxacum Off.), Red Raspberry Lvs. (Rubus idaeus),
Silicon: Alfalfa: (Medigo Sativa)
Sodium: Alfalfa: (Medigo Sativa), Dandelion (Taraxacum Off.),
Sulfur: Alfalfa: (Medigo Sativa), Yarrow (Achilla Mil.), Red Raspberry Lvs. (Rubus idaeus),
Trace Minerals: Alfalfa: (Medigo Sativa)