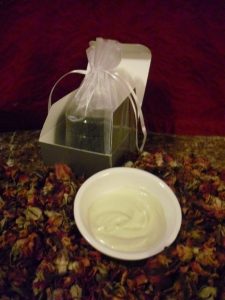 All Natural, Wrinkle-Reducing, Moisturizing Face Cream made with  wild herbs and organic herbs that tone, nourish and moisturize the skin, disguising age & reducing wrinkles.  All natural and organic ingredients.  This moisturizing cream turns dry skin into beautiful, healthy skin at first contact with your skin. Made with natural, anti-oxidant-rich, cold-pressed Olive Oil – the herbs in this magical cream offer a vitamin and mineral topical application for your skin.

Rich & Luxurious.  Moisturizes, Tones, Nourishes and Eases Wrinkles Away, leaving your Face Glowing like a Maiden.
Unique recipe – developed by Mystical Rose Herbals and available only from Mystical Rose Herbals.
Hand-Whipped, made with Organic & Wild-Harvested Berkshire Herbs.  The original recipe for this Luxurious Face Cream is said to have been used by Cleopatra herself.
1.8 oz. Jar – Beautifully Packaged PLEASE SPECIFY SCENT: Rose or Lavender
"I drove all the way from Vermont to replenish my supply of your Face Cream.  I've never used anything so wonderful!"
"My husband uses mine – I need to buy one for him!"
"I used to use those expensive H— Products but yours is richer and I'm only using yours now."
I just need to tell you that I have been searching for decades for a face cream that's not too oily since, even at 57, my skin remains so. This one leaves that healthy glow without the shine (with the occasional blotting) and really does minimize fine wrinkles. And I'm delighted be using a product from local organic ingredients and to support your local business.  Keep up the good work.     Susan
Ingredients: A Proprietary Combination of Carefully-Harvested (non-Certified Organic) Herbs that are Sun-infused in Organic Olive Oil & Organic  Grapeseed Oil then whipped with Distilled Water, Locally-gathered Beeswax, Organic Palm Fruit, Lanolin, Natural Vitamin E and a Borate Salt to aid in Emulsification & Preservation of the Cream.