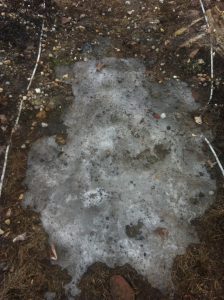 Dreary, dreary, dreary!  If it's not snowing somewhere in the northeast, it's raining somewhere in the northeast!  It's hard not to get to feeling like warm weather will never come…
But, harken!  Even though we've had surprise springtime snowstorms, some of the plants are nevertheless pushing their little green heads bravely up through the snow.  They KNOW that it's THYME for their yearly "come-uppance" and come UP they will, regardless of the snow!
Here at Mystical Rose Herbals, we are itching to get out into our medicinal and cooking herb gardens and rake off last year's dead leaves, to smell that aroma of wet springtime soil that's just been released to the sunshine and to watch our gardens grow.
Join us on Instagram — type in "Mystical Rose Herbals – Watch My Gardens Grow" to see the latest beautiful surprises that happen in our gardens and in the wild meadows, brook sides and forests of the Berkshires of Western Massachusetts.  Each post also goes to Mystical Rose Herbals' Facebook page, so join us there, too.  Please let your friends know about it so they can join us in the virtual gardening tours!
Cheer up your day with a visit to our Berkshire medicinal herb gardens — even if you can't join us physically, you can join us "virtually" via today's social media.  Let's use it for more than a personal photo op — let's use it to take a walk outside when we are not able to actually be there!
I'm inviting you to join me in our gardens and in the nearby field & woods – leave a note to let me know you've been there!
Stay healthy,
Jean Pollock, Holistic Health Practitioner
Mystical Rose Herbals