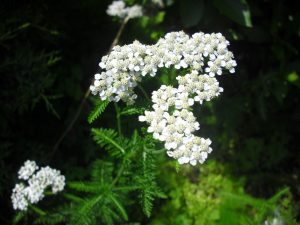 Hello Herbal Friends,
On tomorrow's Mystical Rose Herbals Radio Show I'll tell you about Yarrow, a wonderful herb that has been used since time immemorial. Achilla Mellifolia, its Latin name, comes from the Greek hero of the Trojan War, Achilles, who was protected in battle from bloodshed from his head to his toes … but not his heels.  An arrow struck him in the heel and he was mortally wounded. Because Yarrow is a "stypic" herb, meaning that it staunches bleeding, if Achilles had had this valuable herb, he would have been safe in battle, even if one of his heels had been pierced with an arrow!    Join us as we discuss the valuable blood-staunching aspect of this wild, wonderful and beautiful herb along with the other properties it contains.  Click on: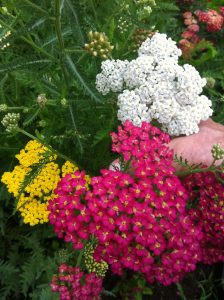 Magnificatmedia.com/mysticalroseherbals
Saturdays at 7:30 a.m.; 2:00; 4:30 and 6:00 p.m. Eastern Standard Time (adjust according to your time zone).
We hope you enjoy the show!
–  Jean 
Three Yarrows, growing in my garden
(Disclaimer: The opinions of Magnificat Media are not necessarily those held by Mystical Rose Herbals.)