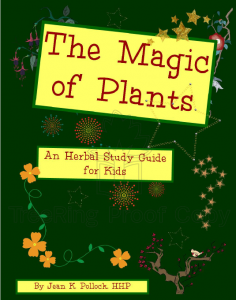 HOT OFF THE PRESS!  "The Magic of Plants, A Working Text for Kids"   by Jean K. Pollock, HHP   
This one-of-a-kind-take-outside, write-in and make-it-yours introduction to the study of medicinal plants makes it super-easy and fun for kids to learn the basics of how plants can be used for healing.  It'll plant the seeds of a new respect for nature and it is sure to get your child itching to get outside and scavenge for "weeds".  It could be the beginning of a life-long dedication to herbal healing!
60 colorful pages of kid-friendly instruction, "The Magic of Plants" is printed on extremely sturdy, high-quality paper stock that will last for years.  It is meant to be taken outside and used to compare & collect plants while learning to spot the differences between similar-looking plants, some of which are very subtle.  Check out the Table of Contents below to get an idea of what your child will be learning.
"The Magic of Plants" can be ordered by itself or in a very cool "Herb Kit" which contains "The Magic of Plants", a sturdy and reusable herb collection bag, a permanent pen for making your own notes in the book, a section to store & identify your own collections, Iron-to-Close tea bags with a Display Bag for your child's own herbal tea, a garden tool and a pair of nifty, sturdy kid's garden gloves.  Add $5 and the author will sign the book, addressing your child personally.  To order click: 
http://www.mysticalroseherbals.com/the-magic-of-herbs-a-working-text-for-children-by-jean-k-pollock-hhp/