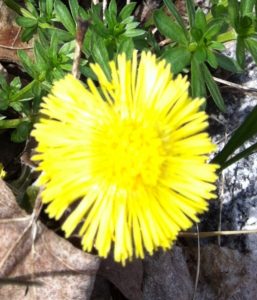 Hello Friends!
Spring is finally here, but those little yellow flowers that you are seeing growing by the sides of the roads aren't Dandelions!  NOPE!  They are called "Coltsfoot" – Tussilago farfara is the Latin term, "tussi" being the Latin stem for "cough".  It's one of the first wild & medicinal herbs that you can find in the springtime and is used to calm and heal coughs.  Both the flowers and the leaves are effective, but this plant is unique in that the flower appears before the leaves.  The leaves are shaped like a colt's foot, hence the common name, "Coltsfoot".
Here at Mystical Rose Herbals we add hand-gathered, Berkshire Coltsfoot self-seeded on our own little herb farm to our very effective and popular Cold & Flu Formula as a main ingredient for addressing the nagging coughs that accompany a cold and sometimes seem to hang on forever.
(NOTE: The leaves growing here with the Coltsfoot flower are NOT the leaves from the Coltsfoot plant.  They are early Cleavers (Galium hed.) that are quite friendly with Coltsfoot.  Coltsfoot leaves will show up about a week and a half after the flowers are finished.)
http://www.mysticalroseherbals.com/herbal-extractions/cold-flu-relief/
Check out our picture-story below to see how it's made!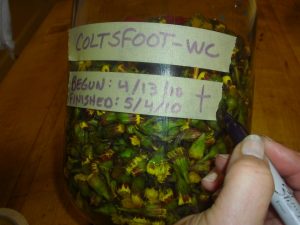 Let the herbs soak for at least two weeks, strain off through cheesecloth, squeezing tightly to get every last drop from the flowers, and you have your Coltsfoot extraction.  This will keep for years if it is kept tightly closed and out of the sun.  1 teaspoon is the equivalent of one cup of tea.  For stubborn coughs, take 1 tsp 3X/day.