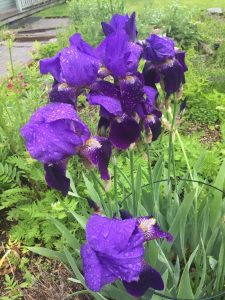 Have you been tuning in on Saturdays to Mystical Rose Herbals' computer radio show?  We hope so!  We've been talking about growing and using herbs, planning and starting your own garden NOW, a healthy lifestyle, nutrition & exercise, food sources and much more!
On this week's Saturday show we continue the conversation of improving your health by giving you PRACTICAL advice.  You'll hear suggestions and ideas to gradually change your eating and lifestyle habits that you can actually fit into your life.  Instead of urging you to QUIT ALL junk NOW, we offer an "ease in" method that can truly work for you.
Turn your computer on and type in http://www.magnificatmedia.com/mysticalroseherbals.  Click LISTEN LIVE on Saturdays at 7:30 a.m., 2:00 p.m., 4:30 p.m or 6:00 p.m for a great show!
Want to hear your own thoughts broadcast on the show?  Add a comment on www.mysticalroseherbals.com, on our CONTACT page.  Tell us your name and where you're from and give your comment and we'll read it on the show!
Stay healthy and remember, SPRING IS RIGHT AROUND THE CORNER!
Jean Pollock, HHP
Mystical Rose Herbals
(Disclaimer: The opinions expressed on magnificatmedia.com are not necessarily those of Mystical Rose Herbals)