Ahhhh!  With our wood stove set up for a nice fire and 5 gallon water bottles at the ready in case we lose power, while I still have light (oh how I do love electricity!), since we (along with most of the nation) are unable to venture out onto treacherous roads, I thought it a good day to give myself a "spa day".    Full Disclosure – I'm not even getting out of my P.J.'s today!  I began with the intoxicating-scented MARRAKESH OIL for hair (it will be listed on www.mysticalroseherbals.com website before the day it out; I've not put it on yet).  This amazing anti-oxidant-rich, organic and cold-pressed oil combination of ARGAN, HEMP AND COCONUT OILS scented with Essential Oil feeds your hair what it's been thirsting for!  I squeezed dropperfuls of the intoxicating-scented oil combination throughout my scalp and then massaged it into my scalp and hair.  I managed to locate my spa hair towel and wrapped my hair for a full day's worth of soaking.  Next came the Manuka Honey Peel-off Mask that I purchased locally – I don't make that one.  That also smells amazing and the combination of the two scents makes me feel so pampered!
Now that I'm all gooped up, I made myself a cup of Mystical Rose Herbals Health Tea and am heading to the bathtub to recreate a bath in the Dead Sea while sipping my cup of tea!  I'll scrub with Lifting Lemon Dead Sea Exfoliating Bath Salt Scrub and finish with an application of Eye Repair Serum lightly applied and Maiden's Glow Herbal Face Cream.  Each of these items can be found at my website:  http://www.mysticalroseherbals.com/berkshire-meadows-herbal-health-tea/
I hope you enjoy your day!  Consider treating yourself to a day at your own home spa with the ALL NATURAL health & beauty products that you've come to love from Mystical Rose Herbals!
Happy Spa-ing!
Jean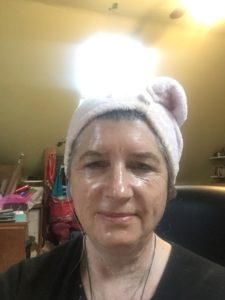 Ready, set, SPA!!  (That's the real me … in case you didn't guess, the picture at the top was a model!  I'm hoping there'll be a magical transformation when I'm done … !)  I can't smile – my face is too tight!