Calm down, ya'll … and more!  Did you know that not only is St. Johnswort Herb used for calming frazzled nerves, but it also is used to bring your spirits up if you are feeling sad and sliding towards depression?  Herbs can regulate the body.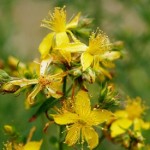 Find out more about St. Johnswort on tomorrow's radio show.
http://www.magnificatmedia.com/mysticalroseherbals
Set the alarm on your computer and remember to join us on Saturdays at 7:30 a.m.; 2:00; 4:30 and 6:00 p.m. Eastern Standard Time (adjust according to your time zone).
We hope you enjoy the show!
–  Jean 
Disclaimer: The opinions of Magnificat Media are not necessarily those held by Mystical Rose Herbals.