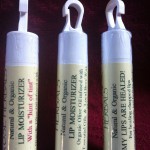 ALL NATURAL LIP BALM  Moisturizes lips.  Feels smooth and natural on your lips, not like the paste you find in some lip tubes.   Contains only Olive Oil, Beeswax and Essential Oils.  CHOOSE PLAIN OR TINTED.
"MY LIPS ARE HEALED!" Lip Healing Therapy.  Heals chapped lips overnight.  Contains: Olive Oil, Comfrey Lf. & Beeswax.
"HERPES HATER" Cold Sore Killer.  Contains Olive Oil infused with Melissa offl, and Beeswax.
Each tube is .15 oz (regular tube size)   $3  + shipping